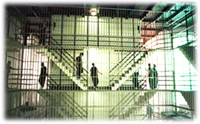 Accompanied by members of the Bristol County Sheriff's Office, students pass through metal detectors and other security systems for a tour of the jail. Once inside, students learn about inmate living conditions and experience first hand what it's like being locked up in a jail cell. The tour wraps up with a frank presentation from male and female inmates about their own life of crime.
These stories include drug experimentation and addiction, prostitution, gangs, AIDS, violence, and murder. Many inmates have children they have never seen, parents who refuse to speak to them, and friends who pretend they no longer exist.
This program takes place at the Dartmouth House of Correction and is geared toward students ages 10-18. Every precaution is taken to ensure the utmost safety of every participant.
Project SLAM can accommodate specific classroom needs. Opening panel discussions have included, but are not limited to, issues surrounding crime in general, the supply and demand of drugs, the role of the educator, and various career opportunities within the Bristol County Sheriff's Office. The program coordinator will work closely with the school or organizational leader to design a program appropriate for the specific subject matter. Many times educators will ask their students to write an observational analysis or critique of their experience.